Our Board Members
Samir Khalil, Founder, [email protected]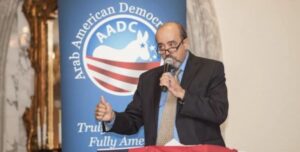 2023-2024 Officers
                          Khaled Elkhatib       President.      [email protected]
Rima Sweiss              Treasurer      [email protected]
Sonia Khalil               Vice President   [email protected]
Musa Siam                Secretary            [email protected]
Board Members
Ray Hanania.             [email protected]
Bilal Muaref              [email protected]
Wesam Shahed         [email protected]
                      Saad Malley                [email protected]
Honorary Board Members
Lena Zayed Hussein   [email protected]
ExOfficio Board Members
Ahmad Ramaha
Nemer Ziyad
MORE ABOUT OUR BOARD MEMBERS
Under construction
SONIA KHALIL
Sonia Khalil is a native of Chicago and has lived in Miami, Florida. She has 10 years of experience in Human Resources, working for Cook County Clerk David Orr. Currently, she works as an Administrative Services Coordinator for the City of Markham. Sonia has a strong political background, starting as a precinct captain at the age of 12 and has worked on various political campaigns.
KHALED J. ELKHATIB
Attorney, Elkhatib Law, LLC, Former AADC Board President
Khaled has helped over 1,000 clients sell & buy homes and commercial real estate, and assisted with other legal matters, including business transactions, and wills and trusts. He enjoys walking clients through the process and making their experiences as smooth and easy as possible. Khaled is a lifelong Chicagoan. He earned a degree in Business & Accounting from Roosevelt University, then received his law degree from The John Marshall Law School. He worked at law firms, accounting firms, the Mayor's Office, State Government, and a non-profit before starting his own firm.
RAY HANANIA
Political columnist, media consultant, Arab American activist
Ray Hanania has served in many capacities in the Arab American community fighting for Palestinian rights and peace. They include as National President of the Palestinian American Congress, Chicago Board member of the American Arab Anti-Discrimination Committee (ADC) and member of the National ADC Board, board president of the National Arab AMerican Journalists Association, spokesman and president of the Arab American Congress for Palestine Chicago, mentored by Professor Ibrahim Abu-Lughod and Professor Milton Rakove. He is CEO Of Urban Strategies Group which has worked with more than 100 elected and government officials, and is the US Special Correspondent for Arab News based int he Gulf. He is a columnist with the Southwest News Newspaper Group in Suburban Chicagoland, and served as the City Hall Reporter from 1977 through 1992 for thew Daily Southtown and the Chicago Sun-Times.