Arab American role in Chicago affairs will be restored mayoral candidates vow
By Ray Hanania
At a candidates' forum, several hopefuls vowed to reverse previous 'discriminatory practices' and said restoration of the role of Arab Americans is a requirement of good public leadership
Incumbent Lori Lightfoot is accused of targeting Arab-owned businesses during a crackdown on gun violence, and failing to address actions of her predecessor that affected the Arab community
CHICAGO: Several candidates running for the office of mayor of Chicago have pledged to restore the role and involvement of the Arab American community in the affairs of the city, and reintroduce Arab cultural events and organizations that were were forced to close under a former mayor and were not reintroduced by the incumbent, Lori Lightfoot.
Speaking on Sunday to an audience of more than 450 people at a candidates' forum and brunch in Bridgeview, hosted by the Arab American Democratic Club, the largest Arab American political organization in the Midwest, several of the hopefuls running in the election on Feb. 28 vowed to reverse what they described as Lightfoot's "discriminatory practices," and said restoration of the role of Arab Americans was a requirement of good public leadership.
"No one should be discriminated against because of their race or their religion," said Willie Wilson, an African American.
"When I become mayor of the City of Chicago, we will not close down Arab businesses or any businesses. We believe in inclusion. We believe every citizen of the City of Chicago should be represented in that office. We believe every agency should reflect the population of Chicago … We have to get everyone involved to make this a better city."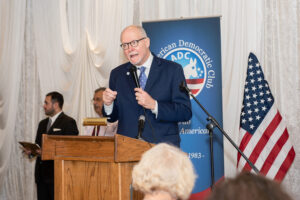 When Lightfoot was elected in 2019, one of her campaign pledges was to restore Arab rights eroded by her predecessor, Rahm Emanuel. His father was a member of the Irgun paramilitary group in Israel that was designated as a terrorist organization by the British Mandate government in 1947.
When Emanuel became mayor of Chicago, his actions contributed to the cancellation of the annual Arabesque Festival. His administration withdrew the city's support for the event after Jewish activists complained that the Palestinian flag was on display during it, among other flags from the Arab World.
He also closed the Arab Advisory Council, which addressed allegations of anti-Arab discrimination, and marginalized the participation of Arabs in city commissions and events.
When Emanuel, who is now the US ambassador to Japan, retired as mayor in 2019 he was succeeded by Lightfoot, a former prosecutor who highlighted her minority status, as an African American and a lesbian, and vowed to support Arab Americans. But after taking office, she was accused of targeting Arab-owned small businesses in an effort to crack down on rising gun violence in the city. More than 100 Arab-owned stores were closed.
Wilson, a wealthy Chicago businessman, vowed to "include Arab Americans" in his administration.
"We will continue to support you and it doesn't matter what color you are," he said. "This is not just a Black and Brown situation; this is Black, Brown, white, Arab American, Latino and others.
"This is our city and we have to embrace this together … I am definitely one of you."
Other candidates echoed this call for Arab activism in Chicago, including Paul Vallas, who previously served as Chicago's budget director and as CEO of the Chicago Public Schools system.
"I will restore the Arab Advisory Council when I am elected mayor," Vallas said. "Why is there even a debate about this? It will be restored. That advisory council will be empowered to make recommendations. We will resource the Arab Advisory Council so they can evaluate and recommend programs.
"We will work with the community to find individuals who will be put into positions of leadership. It will happen. I will ask you about who should be on the advisory council, what type of resources the advisory council will need and what role that advisory council will play in building and assembling the government I will bring in, in drawing from the community when I become mayor. It will be a robust council that you will pick."
Vallas highlighted his long history of working with the Arab community in Chicago, including his role in the development of a cultural and language curriculum guide for the more than 500,000 Arab American students in the city's school system.
Vallas said he "helped place Arab Americans in positions of leadership at the Chicago school board" and noted that his father-in-law, Dean Koldenhoven, fought for Muslim rights while mayor of the Chicago suburb of Palos Heights when, in the summer of 2000, residents opposed the opening of a Mosque there.
Koldenhoven failed to win re-election after supporting the mosque but was honored for his principled stand when he received the "Profiles in Courage Award" from the John F. Kennedy Presidential Library in May 2002.
Congressman Jesus Garcia, another of the mayoral candidates, reminded Arab Americans of how the community had worked with former Mayor Harold Washington to establish the Arab Advisory Council in 1983, and presented himself as a long-time advocate of Arab American and Muslim rights.
"My commitment to the inclusion, the advancement and the well-being of the Arab American community here in metro Chicago, and nationally, remains steadfast," he said.
"It is very important that we continue our efforts in the US Congress to expose and to oppose and speak out whenever we see any vestiges or signs of Islamophobia. That is my position because I know what Muslims are. I know who they are and they are my closest friends as well."
Garcia said his staff includes several Arab and Muslim Americans. He welcomed the election of Abdelnasser Rashid and Nabeela Syed to the Illinois state legislature in January, and said he had defended Minnesota Congresswoman Ilhan Omar, who was removed this month from the House Foreign Relations Committee by Republicans critical of her support for Palestinian rights.
Garcia said he is also pushing for Minority Owned Enterprise status for Arab American business owners on a national level, in line with legislation introduced late last year in the Illinois Legislature by State Rep. Cyril Nichols.
AADC officials said Lightfoot declined an invitation to speak at the event on Sunday. Instead, she sent a non-Arab emissary who, in a short statement, said Lightfoot respects the rights of the Arab community. He declined to comment about the closure of Arab-owned stores in 2021 and 2022.
"She (Lightfoot) has not been responsive to our community at all. She wouldn't meet with us," said AADC President Samir Khalil, who worked with the American Arab Chamber of Commerce on efforts to force Lightfoot to allow the shuttered businesses to reopen.
Store owner Saad Malley, who also worked with the shuttered Arab businesses to help them reopen, said: "She can't pretend that it didn't happen. So many Arab business owners saw their businesses closed for no other reason than they were Arab American."
Wilson, Vallas and Garcia are among the leading contenders among eight candidates seeking to unseat Lightfoot in the election on Feb. 23. If none of them receives more than 50 percent of the total votes cast, the two leading contenders will face each other in an election on April 4.